A TOUR OF DE CITY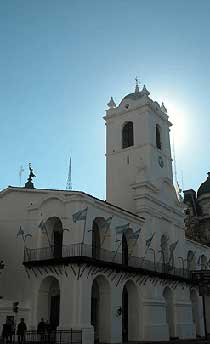 Discover the beauty of Buenos Aires through a tour of its civic center, Plaza de Mayo square the Govemment House ("Casa Rosada"), The Metropolitan Cathedral and the town hall ("Cabildo"), a panoramic view of the Colon theatre one of the most precious opera houses in the world and pride of the Local "porteños ". We will Also visit the traditional quarter of San Telmo , with its magical atmosphere that will take you back in time. (Sunday Tour includes the antique market ). After this , we will stop at La Boca. The place where the first Italian immigrants settled down and famous for its picturesque and colorful architecture (Caminito Street). We will continue to Palermo a residential quarter with diverse attractions Such As the zoo, the Palermo Parks, and the Planetarium, among others. Finally, we will end our tour in Recoleta, one of the most exclusive neighbourhoods in the City, where is the renowned cementery , the elegant shops, excellent restaurants and open air cafes under the " gomero " trees.
Hour of exit:
Every day 9:15 Am and 14:00 Pm.
Sunday excursion included San Telmo Flea Market. With the 09:00 am Excursión.
Duration:
3 Hour
Rate per Person:
U$S 17.00

(Lunch is optional with an extra charge)
For Reservations or Consultation:
Mail: info@differentba.com.ar
Page Web: Contact
Phone: (54 11) 4761 6380
---