'; new_window.name = 'imgs'; new_window.document.write( content ); new_window.document.close(); new_window.focus(); } function IP_scroll(){ if( IP_scrolling === true ){ IP_image_switch( IP_actual_image + 1 ); setTimeout( "IP_scroll()", 3000 ); } } function IP_play(){ IP_scrolling = true; document.getElementById( 'IP_play_button' ).innerHTML = 'stop'; document.getElementById( 'IP_play_button' ).href = 'javascript:IP_stop();'; IP_scroll(); } function IP_stop(){ IP_scrolling = false; document.getElementById( 'IP_play_button' ).innerHTML = 'play'; document.getElementById( 'IP_play_button' ).href = 'javascript:IP_play();'; } //-->
Category
2 bedroom
Bedroom
1
6º
Floor
Bathroom
0
Capacity
4 guests
Toilette
Yes
55 m
Area
Balcony
Yes

This is a wonderful apartment completely furnished and equipped. It is luminous. It has a complete and luminous kitchen, a fully equipped bathroom and broadband Internet service. It is placed very close to the Alto Palermo Shopping Malls and Avenue Santa Fe, as well as to many entertainment places such as restaurants, shops, cinemas, museums, coffee stores, pubs, and also, close to the exclusive Palermo Soho commercial and entertainment area. Some blocks far from the D subway lines and lots of bus lines which lead you to different points of the city.
---

Propiety Facilities
Cable TV - Refrigerator with freezer - Telephone - DVD - Air conditioning - Coffe Maker - Toaster - Iron - Oven - Kitchen utensils - Room services - High speed internet - Towels and Linens - Internet WI FI - Maid services

The Rate Includes
Electricity - Gas - Building Fees - City taxes - Cable TV - Telephone - Water - Maid service once a week - High speed internet WI FI.

Administrative Fees
U$S 40.-
---
Cost
Monthly
U$S 1320.-
Weekly
U$S 450.-
Daily
U$S 100.-
---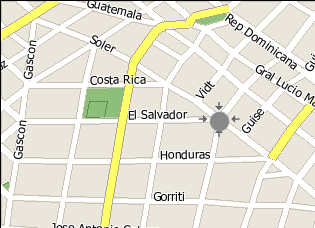 Near to

Bus Stop - Subway - Square - Shopping Alto Palermo - Supermarket - Bank - Cinemas - Laundry - Restaurants - Garage - Gymnasium - University - Parking - Cofee Store.

---

















---
info@differentba.com.ar
Monday to Friday 9.30 AM to 7.00 PM ( Local Time ) - 54 11 4761 6380
Copyright 2006 - DifferentBA - Buenos Aires - Argentina - Todos los derechos reservados